Concrete countertops are becoming popular every day as homeowners keep exploring unique and classy designs.
Granite and marble are the most used materials when designing kitchen countertops. They are durable with many benefits.
Concrete countertops come with a wide range of varieties to choose from. You can go for mirror-smooth or stone-like textures.
Another design can be achieved when you trowel the concrete surface and create a handcrafted texture.
Below are some of the best concrete countertops designs and finishing techniques you can choose from for your indoor or outdoor use.
Veined Finish
Concrete countertops can be crafted to resemble high-end granite or marble. You can have a few specialized concrete mixes which will give you the veining effects once they have been cast.
The concrete can also be hand-packed into the desired form using contrasting colours until you achieve the veined effects.
Another way to produce veined effects is by casting voids into the concrete. Coloured grout is then used to fill in the spaces.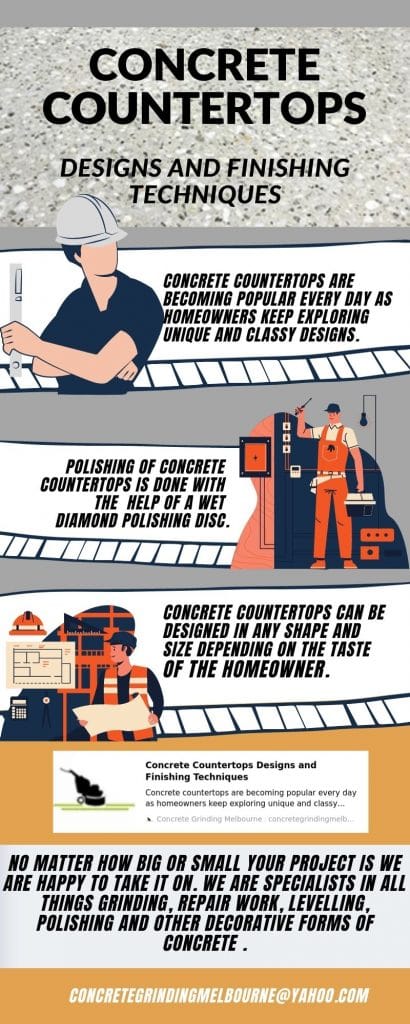 Veined Design Ideas
To create and design a genuine natural stone, you can cast the concrete into various integral colours followed by acid stains in layers on the top surface.
The next step is to modify the pigments and degree of marbling to achieve an outstanding piece.
In case the concrete countertop has seams, you can play about with veining to make them unnoticeable.
Wood-Grained Finish
Another concrete countertop finish is the wood-grained finish. This can be achieved by a unique technique known as board forming.
This is done by casting the concrete in different forms lined together using real wood planking.
The unfinished wood has some roughness in it which impacts a distinctive wood grain texture on the surface of the concrete.
Wood-grain Design Ideas
To add a finer design to the concrete countertop, you can give the edges a wood-grained texture using strips of wood lath when casting.
When casting is done, saw cut straight lines on the surface of the concrete to create distinctive board lines.
Just like veined finish, the use of integral colour combination and topical stain is widely used to bring out a weathered wood design.
Hand-Troweled Finish
Are you in love with stone-like texture countertops kitchen finish? Hand -troweled finish can give you that texture.
Hand troweled countertop allows you to have different textures varying from smooth to the most roughened surface.
This increases the variegation and textural depth of the countertops which makes them resemble a natural stone.
Hand-Troweled Design and Ideas
The countertop surface can be applied with a low-lustre sealer to give it the natural look.
Compliment the concrete countertop surface with earth-toned colours like grey and brown. Remember to avoid glossy finishes.
Polished or Sanded Finish
Polishing of concrete countertops is done with the help of a wet diamond polishing disc.
It is attached to an orbit sander then the surface is made wet and sanding begins. This will eventually give you a quality and glossy finish.
Polished Design and Ideas
For a smooth surface, you can use an orbit sander with a 200grit polishing pad. Keep the countertop wet and don't use too much pressure on the sander.
For the salt and pepper look, use a 50 grit polishing pad. Keep changing the grit pad until you reach 400 grit.
Clean the countertop surface and you have the look you want. You can continue changing the grit pad until you reach 3000grit.
This will give you a glossy and reflecting countertop surface.
Conclusion
Concrete countertops can be designed in any shape and size depending on the taste of the homeowner.